| | | | | | |
| --- | --- | --- | --- | --- | --- |
| | OCTOBER | 30 | 2009 | | |
| | | |
| --- | --- | --- |
| | Mohegan Sun Casino Uncasville, Connecticut December 12, 2009 | |
| | | | | | |
| --- | --- | --- | --- | --- | --- |
| | NOVEMBER | 5 | 2008 | | |
| | | |
| --- | --- | --- |
| | LYNDA TO BE HONORED BY NATIONAL MUSEUM OF WOMEN IN THE ARTS | |
| | | | | | |
| --- | --- | --- | --- | --- | --- |
| | MAY | 30 | 2008 | | |
| | | |
| --- | --- | --- |
| | BACK BY POPULAR DEMAND: LYNDA TO RETURN TO THE KENNEDY CENTER | |
| | | | | | |
| --- | --- | --- | --- | --- | --- |
| | OCTOBER | 30 | 2008 | | |
| | | |
| --- | --- | --- |
| | LYNDA TO DO ONE SHOW IN MODESTO, CA | |
| | | | | | |
| --- | --- | --- | --- | --- | --- |
| | AUGUST | 20 | 2008 | | |
| | | |
| --- | --- | --- |
| | LYNDA TO RETURN TO FEINSTEIN'S IN NEW YORK FOR SEVEN SHOWS | |
| | | | | | |
| --- | --- | --- | --- | --- | --- |
| | MAY | 29 | 2008 | | |
| | | |
| --- | --- | --- |
| | EIGHTEEN INTIMATE EVENINGS WITH LYNDA IN ATLANTIC CITY! | |
September 7 - September 27, 2008 - Harrah's Resort Atlantic City
For all venue-related information - seating chart, address, map and directions, nearby dining, and weather - click on the Harrah's link up above.
To purchase tickets, click on these performance dates:
| | | | | | |
| --- | --- | --- | --- | --- | --- |
| | MAY | 28 | 2008 | | |
| | | |
| --- | --- | --- |
| | LYNDA'S MOTHER-IN-LAW, SOPHIE ALTMAN, DIES | |
From wjz.com: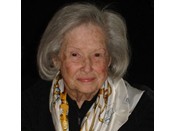 Sophie B. Altman, the founder and executive producer of the landmark television show, IT'S ACADEMIC, died on May 24 in Washington, D.C.
As one of the first women to work in radio and television, Altman was a broadcast pioneer who created and produced the long-running high school quiz program to provide greater public recognition for academic achievement.
Now entering its 48th season, the award-winning IT'S ACADEMIC is in the Guinness Book of World Records as the world's longest running television quiz show.
The program featured high school students in television markets across the country, including New York, Los Angeles, Chicago, Boston, Philadelphia, Pittsburgh, Baltimore, Cleveland, Cincinnati, Buffalo, Phoenix, Charlottesville, San Diego, and Washington, D.C.
Altman's work was motivated by a deep concern for education, the recognized need for positive programming for children and the desire to project positive images of teenagers to the community and nation.
Thousands of the nation's brightest high school students have appeared on the show, and gone on to become leaders in law, medicine, business, science, government and the media.
Included among its many illustrious student alumni are Senators Hillary Rodham Clinton and Charles Schumer, the publisher of the Washington Post, Donald Graham, writer David Ignatius, and television host George Stephanopoulis.
Other national figures who have appeared on the show include President Ronald Reagan, Senator Jim Webb, former Senators Jack Danforth, John Heinz, and Pat Moynihan, Supreme Court Justice Clarence Thomas, columnists Art Buchwald and David Broder, Cabinet secretaries Elaine Chao and Margaret Spellings, baseball Hall of Famer Cal Ripken, Jr.
Well-known television journalist Cokie Roberts's first job in television was as an assistant producer on IT'S ACADEMIC.
To foster education among inmates, Altman also instituted a series of IT'S ACADEMIC programs in federal and state prisons.
Altman got her start in television as an assistant to the producer of "Meet the Press."
At the advent of modern television in the early 1950's, she created and produced a number of highly acclaimed shows, including Report Card for Parents, Teen Talk, NIH Reports, and Meeting of the Minds, among other shows.
In recognition of her work on radio and television, Altman has earned numerous awards and honors, including eight Emmys, and three Golden Mikes, and has been celebrated by leading educational institutions, including the National School Boards Association.
Altman was named a Washingtonian of the Year by Washingtonian magazine.
She also authored a book and wrote numerous articles that appeared in newspapers and national magazines concerning her work with teenagers.
Sophie Altman was born in Springfield , Massachusetts in 1913, the youngest of six children.
After graduating from Wellesley College on scholarship, she was one of few women to attend Yale Law School, graduating in 1936.
She then moved to Washington, D.C. as part of the cadre of young lawyers who came to work here in the New Deal and remained to become part of the Washington establishment.
She married Norman S. Altman, then also a New Deal lawyer, in 1937, and they were married for 60 years.
In 1961, she created IT'S ACADEMIC; the program was an instant success and has become an institution in Washington (NBC4) and Baltimore (WJZ), as well as elsewhere, with many area schools establishing official IT'S ACADEMIC clubs.
She continued as its executive producer and worked daily on the show until her recent hospitalization.
Her husband, Norman Altman, died in 1997, and her daughter, Professor Janet R. Spragens of American University passed away in 2006.
Mrs. Altman is survived by her children Susan Altman, Robert Altman and his wife, actress Lynda Carter Altman, Nancy Altman and her husband Professor Ira C. Lupu; her grandchildren Robin Spragens Trepanier and her husband Oscar, Lee Spragens Irwin and her husband Thomas, Jennifer Altman-Lupu, James Altman, Michael Altman-Lupu, Jessica Altman; and her great grand-son Luke Trepanier.
| | | | | | |
| --- | --- | --- | --- | --- | --- |
| | APRIL | 14 | 2008 | | |
| | | |
| --- | --- | --- |
| | "TATTERED ANGEL" IS ON THE FILM FESTIVAL CIRCUIT | |
Wonderland's "Tattered Angel" page - which includes a YouTube video clip - is located
here
.
| | | | | | |
| --- | --- | --- | --- | --- | --- |
| | MARCH | 27 | 2008 | | |
| | | |
| --- | --- | --- |
| | LYNDA LANDS MEMBERSHIP IN LOCAL, EXCLUSIVE SCULLING CLUB | |
By Jeff Dufour and Patrick Gavin, Examiner.com
As you frolic about outside this spring and summer, keep your eyes on the Potomac, for you just might see... Wonder Woman!
We hear that Lynda Carter, the bombshell actress who played Wonder Woman in the 1970s television series, recently became a member of the exclusive, nearly 140-year-old Potomac Boat Club and is a devoted fan of sculling. Carter, who's remained incredibly fit throughout her later years, "loves being outdoors and exercising," according to a rep, and "loves the camaraderie" of sculling. The Potomac resident usually hits the water with a friend or relative. (For the uninformed: In sculling, each rower uses two oars and scullers row in single-, double- or four-person boats.)
Although we're sure that Carter didn't have a hard time paying the club's $600 annual dues, it wasn't easy for Carter to become a member: People spend years on the club's membership waiting list, and space for their boat on the club's racks is a hot commodity ("When you've got your own rack space as a member, that's when you've truly arrived," said one source familiar with the club). The rep for Carter tells us that she doesn't have her own boat, so she's likely to use one of the club's instead. The club is located in the shadow of Key Bridge along the D.C. waterfront and a handful of top athletes train out of the club, including some with Olympic aspirations (in the past, club members have gone on to win Olympic, world and national championships).
Perhaps Carter can just boat right up to the Kennedy Center, where her cabaret show -
"An Intimate Evening with Lynda Carter" - performs on May 10.
Of course, we simply want to know: How ever does Carter manage to keep her cape out of the water?
| | | | | | |
| --- | --- | --- | --- | --- | --- |
| | FEBRUARY | 21 | 2008 | | |
| | | |
| --- | --- | --- |
| | AN INTIMATE EVENING WITH LYNDA AT THE KENNEDY CENTER! | |
An Intimate Evening with Lynda Carter
Following sold-out, record-breaking engagements in San Francisco, Los Angeles, Chicago, and at Feinstein's in New York, Lynda Carter brings her cabaret show to the Kennedy Center.
May 10, 2008 at 7:30 PM
Tickets went on sale February 20, 2008 Buy tickets
Running time: 100 minutes. No intermission.
The Kennedy Center Terrace Theater
2700 F St NW
Washington, DC 20566 [map]

| | | | | | |
| --- | --- | --- | --- | --- | --- |
| | UPDATED | JANUARY | 31 | 2008 | |
| | | |
| --- | --- | --- |
| | LYNDA'S CURRENT CONCERT SCHEDULE THROUGH MAY 2008 | |
| | | | | | |
| --- | --- | --- | --- | --- | --- |
| | JANUARY | 21 | 2008 | | |
| | | |
| --- | --- | --- |
| | MEGAN GALE CONFIRMS WINNING WONDER WOMAN ROLE | |
Australian actress Megan Gale has confirmed she is set to play Wonder Woman in the upcoming movie Justice League of America. The 32-year-old - who recently announced her retirement from catwalk modelling - was shocked after being chosen for the role - because she is a big fan of American actress Lynda Carter who played the comic book heroine in the 1970s TV series. She says, "I still can't believe it. I have been infatuated with Wonder Woman since I was a teenager. People used to tell me I looked like Lynda Carter. It was always a bit of a fantasy. It was never going to be a reality for me, but it kind of found me and I'm a big believer in fate and destiny." And although the ongoing Hollywood writers' strike has delayed filming of the much-anticipated new action movie until June '08, Gale insists landing the iconic role has been a dream come true: "Even if the writers' strike goes on forever, for me, the fact that I've been cast as Wonder Woman is enough." Other actors rumoured to be linked to the movie include Adam Brody and rapper Common.
| | | | | | |
| --- | --- | --- | --- | --- | --- |
| | JANUARY | 14 | 2008 | | |
| | | |
| --- | --- | --- |
| | KERI RUSSELL TO VOICE WONDER WOMAN FOR DVD FEATURE | |
By Matt Brady, Newsarama.com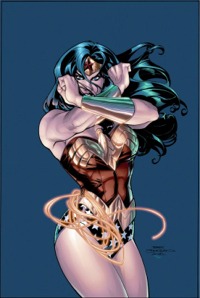 Back in August, we told you that Wonder Woman and Batman were up next for the direct to DVD movie treatment, with Batman's turning into a six-chapter Batman: Gotham Knight with Eastern-flavored animation combined with stories by Brian Azarello, Josh Olsen, David Goyer, Greg Rucka, Jordan Goldberg and Alan Burnett. The stories of Gotham Knight will be set in movie continuity and will take place between Batman Begins and this summer's Batman: The Dark Knight, and the direct to DVD movie should hit before The Dark Knight's July 18th theatrical debut.
So what about Wonder Woman?
Well, no firm release date, but the voice of Wonder Woman will be provided by Keri (Waitress, MI: III) Russell, according to TV Guide's Michael Ausiello. According to Ausiello, Russell is in "advanced talks" for the role in the animated feature, which is tentatively slated for a late '08, early '09 release. Russell was a favorite choice by many fans for the lead role in a live action Wonder Woman movie before said potential movie sank beneath the waves.
According to the original information Newsarama received in August, the Wonder Woman animated feature will be rated PG-13, and is described as follows:
On the mystical island of Themyscria, a proud and fierce warrior race of Amazons have raised a daughter of untold beauty, grace and strength - Princess Diana. When and army fighter pilot, Steve Trevor crash-lands on the island, the rebellious and headstrong Diana defies Amazonian law by accompanying Trevor back to civilization. Meanwhile, Ares (the god of War) has escaped his imprisonment at the hands of the Amazonians and has decided to exact his revenge using the mystical "Hand of Rage," an ancient artifact with the power to raise armies from the dead and infuse them with a thirst for blood. Ares intends to start a world war that will not only last for centuries - but will wipe out every living being on the planet, starting with the Amazons! It is up to Princess Diana to save her people and the world - by using her gifts and becoming the ultimate Wonder Woman!
Russell will be the second actress to portray DC's Amazonian princess in the company's direct-to-DVD features, as Lucy Lawless is providing the character's voice in JLA: The New Frontier, due for release on February 26th.

| | | |
| --- | --- | --- |
| | | |


| | | | | | |
| --- | --- | --- | --- | --- | --- |
| | NOVEMBER | 14 | 2007 | | |
| | | |
| --- | --- | --- |
| | A SINGING WONDER AT 56 | |
By Annick Banoun
Wonder Woman has arrived in New York City. Except this time, instead of fighting crime with her bullet deflecting bracelets and golden lasso, she is showing us her more sensitive side. She has returned to headline an hour-long cabaret show. Many might not know, but before slipping into the hot pants and boots to become Wonder Woman, Lynda Carter was a singer. She left home at 17 to join her band on the road. Her mother didn't try to stand in the way, later insisting, as Carter recalled in a recent interview, "You know it's useless to get in Lynda's way when she's determined to do something."
After the Wonder Woman series ended in the late nineteen seventies, Carter took up singing and enjoyed long stints performing in Las Vegas and Atlantic City, as well as on many television specials. She gave up the business 20 years ago, yet she couldn't get the music out of her head. She recalls, "I couldn't imagine doing anything else ... 'cause I got no place else to go." She returned to the music scene in 2005 appearing as Mama Morton in the London production of Chicago. Now after two decades, she has returned to her original love: the live stage show. She is headlining an intimate cabaret show at Feinstein's at Loews Regency Hotel full of cabaret standards and favorite medleys from her past network specials. The show began this past May with a sold out run in San Francisco.
Lynda Carter returns to the stage in top form. Although no longer an Amazon with super powers, Carter still exudes a regal beauty and presence on stage. Her ability to connect with the audience is especially notable. Throughout the hour long show, she is able to hold on to her celebrity aura while remaining relatable and genuine to the audience. She is able to tackle songs made famous by Billie Holiday, James Taylor, and Willie Nelson and make them her own so that as a listener, one simply forgets that the song was not originally intended to be performed by Lynda Carter. As one audience member astutely stated, "You either have it or you don't. Lynda Carter obviously has it - that 'X' factor."
Perhaps more captivating than her performance, however, are the interludes between each song, when she fascinates the audience with her tales of working with James Taylor and Willie Nelson. Taylor, she recalls, taught her about the 'fakeness' of an encore. Just go off stage, touch the wall, turn around, and come back on stage, he told her. Carter's charm and jovial personality come through, as she is able to poke fun at herself and her fame throughout the show. She is proud of her Wonder Woman roots and does not shy away from them, although she does refuse to reenact the twirling transformation by which she used to change into the superhero.
The audience is filled with Carter's super-fans - men and women (mostly men) who follow her shows around the country and still have her vinyl record and figurines. In an age where celebrities seem increasingly less eager to interact with fans, Carter is truly appreciative and gracious. She explains, "It's a scary thing to put your ass on the line. It's a scary thing to make changes as far as listening to that voice inside your head." She understands that as a 56 year old performer, she owes much of her enduring success in the entertainment business to her fans.
She was a movie star in an age where women rarely were given their own television shows. She is a huge supporter of women in the media and all related fields of work and study. As for her advice to the many aspiring singers and actors at Barnard College and Columbia University, Lynda Carter insists upon study and discipline: "You will never make it unless you know what you are doing - be a student of what it is you want to do." She continues, "The yardstick is you - that's how you learn to think for yourself. I have to watch myself."
| | | | | | |
| --- | --- | --- | --- | --- | --- |
| | NOVEMBER | 1 | 2007 | | |
| | | |
| --- | --- | --- |
| | LYNDA IN AM NEW YORK'S "WHAT THE CRITICS SAY" | |
By Matt Windman for AM New York.
Nearly thirty-five years after being crowned Miss America and defeating villains as television's Wonder Woman, Lynda Carter is doing cabaret. In her new show at Feinstein's, she is surprisingly dynamic and very sexy. Combining a diverse song repertoire with a few Wonder Woman spins, Carter provides a pretty terrific evening.
Feinstein's at the Regency, 540 Park Ave, 212-339-4095, $40+. Fri 8pm, Sat 8:30 & 11pm. Thru Sun.
| | | | | | |
| --- | --- | --- | --- | --- | --- |
| | OCTOBER | 31 | 2007 | | |
| | | |
| --- | --- | --- |
| | TAKING ON SONGS, NOT VILLAINS | |
By Robert L. Daniels, Theater News Online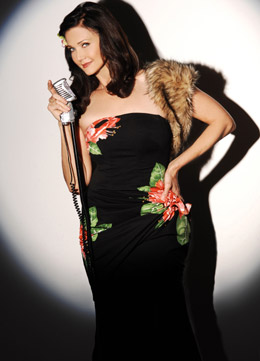 It was Halloween in Gotham and patrons visiting Feinstein's at Loew's Regency found themselves in the company of seventies daredevil beauty Wonder Woman. Newly transformed into a sophisticated chanteuse, Lynda Carter made her Manhattan debut with a program of well chosen jazz and theater songs. Now fifty-six, the former glam beauty queen and television action star revealed a studied and engaging way with a song.
A handsome presence in a white blouse and a broad belted floor length black skirt, Carter displayed a pleasantly flexible voice that boasted a richly firm lower register. Poised and well focused on a varied repertoire, the diva recalled rural roots, a caring mom and made but one brief reference to her role as an action hero, as her band whipped into the Wonder Woman theme.
Braced by a fondness for old films. Carter recalled that Rita Hayworth was only remembered for one film, and that being the 1946 Gilda. Perhaps, but even in that case her singing voice was dubbed by Anita Ellis. Carter, who portrayed Hayworth in a 1983 bio-pic, revived the thriller's big musical moment with "Put the Blame on Mame", and her torrid hip-shaking tribute to the screen goddess defined the legacy of Tinsel Town's golden age.
From Hollywood to Phoenix, where she grew up, Carter crooned what her mother labeled "torch country" with "Crazy". She captured the lumbering road house flavor of the Willie Nelson song with a down home heartbeat.
The next surprise came in the form of a jazz singer. From Billie Holiday's plaintive "God Bless the Child" to weathered classics like "Cry Me a River", "Blues in the Night" and "Fever", Carter revealed a distinct feel for interpretive jazz vocalizing. The real surprise came with "Cloudburst", a dazzling jazz tongue twister made famous by Jon Hendricks, Dave Lambert and Annie Ross. Carter met the challenge head-on and proved she could swing with the best of them.
Firmly assisted by the polished support of her pianist and musical director, Sam Kriger, and a tightly balanced quartet, Carter found herself comfortably nestled in the ballads of Irving Berlin, Jerome Kern, George Gershwin and Cole Porter. With the thrust, pluck and fortitude of Wonder Woman, Lynda Carter conquered the Big Apple with appealing poise, dignity and aplomb.
| | | | | | |
| --- | --- | --- | --- | --- | --- |
| | OCTOBER | 30 | 2007 | | |
| | | |
| --- | --- | --- |
| | A '70S SURVIVOR WITH A SECRET IDENTITY | |
By Melena Ryzik, New York Times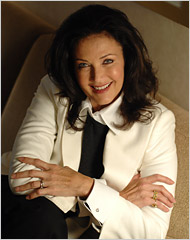 In the iconography of contemporary womanhood, few images are as powerful as Wonder Woman. Tens of millions of little girls (and some very astute boys) grew up idolizing her, particularly after the 1970s television series starring Lynda Carter introduced her to new generations of proto-feminists. Decked out in star-spangled hot pants and knee-high red boots, with a golden lasso and an invisible jet, she didn't need a sidekick to fight off bad guys, though, as always, good accessories helped.
But few current fans know this superhero's secret - no, not where she got those rad bullet-deflecting bracelets. Wonder Woman, it turns out, is a singer.
Or at least, Ms. Carter, whose likeness is still synonymous with the comic-book heroine, is. In 1978 she released an album, "Portrait," and for the next decade she sang on TV specials and in Atlantic City, Las Vegas and London. Now, after a 20-year absence, Ms. Carter has returned to the stage as a headliner. Tonight she will make her New York debut at Feinstein's at Loews Regency with an hourlong show of cabaret standards, medleys and one Willie Nelson tune.
"I'm doing it for the purest reason," Ms. Carter said last week, in an interview in her suite at the Regency. "I'm not trying to get more famous, and it's not for the money. It's for the thrill of it."
Part of the impetus was an invitation to appear as Mama Morton in the London production of "Chicago," which Ms. Carter did in 2005. This May she began her cabaret tour with a sold-out run in San Francisco; she's now at work on an album version of the act, which includes "'Deed I Do," "Put the Blame on Mame," "50 Ways to Leave Your Lover," "Fever" and Mr. Nelson's "Crazy."
"I get to share a part of myself that there's no other way for me to share," she said. "All of the dark, all of the light, all of the sick sense of humor that I have at times" comes out onstage.
And in person; for a caped crusader, Ms. Carter is unusually open.
Ms. Carter has lived for more than two decades in Potomac, Md., with her husband, the lawyer and Washington power broker Robert A. Altman, and raised a son, now a college sophomore, and a daughter, a high school junior. In the midst of preparing for her brief run here (it ends Saturday) and doing interviews, Ms. Carter also rang the Nasdaq closing bell, and these experiences left her feeling somewhat ruminative: about patriotism and politics (visiting the stock exchange, she said, felt "so American"); beauty and aging ("I'm going to fight it," she said, but "oh, honey, I would never go on a beach in a bathing suit again"); and women's role in the world. ("Oh good, it's a girl," she said of this reporter.)
Curled up on a couch in her suite, dressed in pointy stilettos, black slacks and a dark sweater and wrapped in a fringed Chanel throw, her look is less star-spangled than classic. At 5 foot 10, with a mane of dark wavy hair, Ms. Carter, 56, is as statuesque as ever. She says she still doesn't feel she fits in inside the Beltway.
"I think my husband would prefer if I weren't quite so outspoken," she said. "I've got a lot of high horses," including abortion rights, immigration reform and increasing the number of women in government.
"There's a whole generation of women that are my age and around my age that got it from their mothers: Don't let anyone hold you back," she said. Now, she added, addressing the reporter, "It's your turn for success."
Though she has done some acting recently, including a small part in the "Dukes of Hazzard" movie, Ms. Carter is still most identified with Wonder Woman.
"She has a built-in audience, just by virtue of the tiara," said Emily Rems, the managing editor of Bust, the pop feminist magazine, which sells the adult versions of Wonder Woman Underoos in its online store.
"We can't keep them in stock," Ms. Rems, who also keeps a photo of Wonder Woman on her desk, said, adding of Ms. Carter, "I would see her do just about anything."
Ms. Carter is used to this kind of fandom: in the crowd for one of her shows in San Francisco was a man fully decked out in Wonder Woman regalia. Another came covered in Wonder Woman tattoos; he requested that she autograph his arm, then rushed out to a tattoo shop to have it inked.
After years of taking in memorabilia - and therapy, she noted - Ms. Carter has her own theory about the enduring power of Wonder Woman. "I think it's the goddess within us, the secret self," she said.
But so far she's not involved in the latest planned film to feature Wonder Woman, "Justice League of America" (Jessica Biel has been mentioned for the role). "I hope it is made and I hope it makes a jillion dollars and that every little girl and boy sees it because I think she's great," Ms. Carter said of her character. "And I really do think that the baton needs to be passed."
For Ms. Carter, one way to do that is to resurrect her singing career.
Seeming almost teary, she said: "The only really bad thing about Wonder Woman is, God, you know, looking back. I don't think at the time I was mature enough to be in the moment and enjoy - you know, fame is really weird. And so I look for things that can still be with me now."
Lynda Carter performs through Saturday at Feinstein's at Loews Regency, 540 Park Avenue, at 61st Street; (212) 339-4095,
feinsteinsattheregency.com.
| | | | | | |
| --- | --- | --- | --- | --- | --- |
| | OCTOBER | 30 | 2007 | | |
| | | |
| --- | --- | --- |
| | LYNDA CARTER'S SECOND ACT | |
Today Lynda was a guest on CBS's "The Early Show". Here is the companion article from CBSNews.com:
Former "Wonder Woman" star Lynda Carter may have played a character of incredible strength, but she has had to battle her own villain: alcohol.
After 10 years of sobriety, she is back on top of her game and is starring in her own cabaret show.
It wasn't easy for her to arrive to this point. She said she turned to drinking because she was unhappy in her first marriage. At first, she didn't even realize she had a problem.
"Some people think they're not alcoholics if they drink after 5 or they don't do it every day or, for me, I didn't think I was because I would quit for two years, had children, just quit, not even care about it, and then drink for the same reason anybody else did," she told The Early Show co-anchor Hannah Storm.
One of the biggest problems with alcoholism is that those who have it don't want to admit it, and it's not the kind of thing that gets diagnosed by a doctor, Carter said.
"It's a long time of drinking differently than other people and being in denial about it, and it's mostly denial because of the shame," she said. "You're embarrassed if you don't remember what happened that night."
So with the support of her husband, Robert Altman, she got help and realized that she is actually as "wonderful" as the character she is famous for playing. She opens her new cabaret act, "An Intimate Evening with Lynda Carter" in New York City this week. Fans might be surprised to see her embrace her first love: singing.
When she was just a teenager, she said she tried to be both a singer and an actress but was told that she couldn't be both.
"I went to be an actress and they told me I couldn't because I was a singer. So I didn't tell anybody," Carter said. "Singers don't act and actors don't sing. You just have to say one thing."
So finally, she went back to singing after she became famous enough to do what she wanted. She performed in "Chicago" in the West end of London.
"I've missed this so much," Carter said. "So, I do it, not to be more famous. It's not to make a lot of money. It's really because it's thrilling to me. Thrilling in that there's a part of me that I give in those moments that I'm unable to show in any other way except with my very, very best friends."
When her act debuted in San Francisco, she received rave reviews and but even still, she gets nervous on stage. But the difference between a young Lynda Carter and the woman she is today is that she is able to take that nervous energy and make it work for her on stage.
"I'm better now," she said. "I think because I've lived life."
| | | | | | |
| --- | --- | --- | --- | --- | --- |
| | OCTOBER | 29 | 2007 | | |
| | | |
| --- | --- | --- |
| | LYNDA APPEARS ON "GOOD DAY NEW YORK" | |
Today Lynda was a guest on My Fox New York channel's "Good Day New York", where she talked about her cabaret act, discussed the impact of her "Wonder Woman" role on her kids, and all but revealed whom she feels should don the bulletproof bracelets in the upcoming "Wonder Woman" movie.
| | | | | | |
| --- | --- | --- | --- | --- | --- |
| | OCTOBER | 29 | 2007 | | |
| | | |
| --- | --- | --- |
| | KICKING HEROINE: '70S STAR TURNS TO CABARET | |
By Billy Heller, the New York Post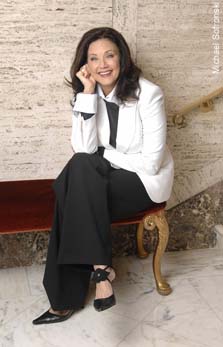 Lynda Carter says she's never used the Wonder Woman Lasso of Truth on her two children, now teens. "I don't think it would work on them. But," referring to President Bush, the talkative actress adds, "I've often thought how nice it would be during this administration if it worked."
Carter and her family live in Washington, D.C., where you can't help getting political. "I don't really care who the president has sex with. But I do care about being lied to about important things," she says. "Lie to me about sex - everyone lies about who they have sex with. It's not about war and killing people."
Over a lunch of tomato soup and a grilled cheese sandwich (which she insists on sharing), Carter talks about being in town to get ready for her New York cabaret debut tomorrow night at Feinstein's at Loews Regency.
There's no theme to her show. "I hate themes," she says, mentioning some of the songs she'll sing: " 'Deed I Do," "God Bless the Child," "Put the Blame on Mame," plus some James Taylor and Willie Nelson. And a whole lot of stories - talking, which she does well.
Political talk spills out - she's a big Hillary supporter.
"I am on my high horse," she declares. "And here I am talking to a reporter, and my husband - who's been around politics all his life - would say, 'Oh my God. You didn't say that.' "
But her husband, Washington lawyer Robert Altman, can't complain. Carter stood by her man when he was arrested and tried on charges related to the BCCI banking scandal. He was acquitted.
She beams over her kids - her 19-year-old son is in college, and she's preparing to head to the Midwest for parents weekend; her daughter is 17 and "would rather be caught dead" than ever dress as Wonder Woman for Halloween.
But Carter doesn't mind talking about the defining role she played on TV from 1975 to 1979, and that star-spangled, form-fitting, tiara-topped costume that made her every American boy's dream girl.
She's 56, and it's still easy to see why the 5-foot-9 Carter was declared the most beautiful woman in the world by the International Academy of Beauty and the British Press Organization in 1978.
"I was a pioneer," Carter laughs, demurely dressed in a Valentino shirt sweater, Loro Piana pants, Escada cashmere jacket and Chanel shoes.
She still has the costume but refuses to reveal its whereabouts. "It's in a secret vault, and it's circling overhead in an invisible plane," she says.
"The last time I took the Wonder Woman costume out was for each of my children's career day show-and-tell."
It didn't mean a thing to her young kids, but the others were entranced.
"One of them asked my son, 'God, what's it's like to have your mom be this famous actress?' And my son kind of looks up at me, and he goes, 'Well, it's not all that it's cracked up to be.' "
Since she quit fighting the bad guys on TV, Carter has taken up rowing to keep in shape. You can see her sculling on the Potomac.
Imagine that: Wonder Woman, on the water in Washington, keeping in shape and trying to keep the ship of state from foundering.
Lynda Carter sings tomorrow through Saturday at Feinstein's at Loews Regency, Park Avenue at 61st Street; (212) 339-4095.
| | | | | | |
| --- | --- | --- | --- | --- | --- |
| | OCTOBER | 24 | 2007 | | |
MULTI-TALENTED PERFORMER LYNDA CARTER RINGS THE NASDAQ CLOSING BELL
From NASDAQ.com: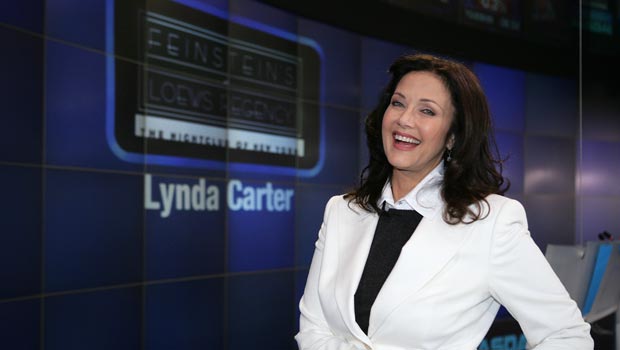 The multi-talented performer Lynda Carter Rings the Closing Bell in celebration of her NY cabaret debut at the Feinstein's at the Loews Regency.
Under the musical direction of Johnny Harris, "An Intimate Evening with Lynda Carter" is already promising to exceed her record breaking San Francisco premiere as well as her sold out engagements in Los Angeles and Chicago.
Lynda Carter extends her tour to include Feinstein's at Loews Regency in NY just before completing her new CD. Lynda brings her own energy and dynamic voice to many of her favorite arrangements including "Summertime," "Can't Help Lovin' Dat Man," "The Way You Look Tonight," "Fever," "My Heart Belongs to Daddy," "Crazy" and a show stopping renditions of "Fifty Ways to Leave Your Lover," and "Put the Blame on Mame." With her recent TV success in SMALLVILLE and films like Dukes of Hazard and SKY HIGH, as well as her recent stage performance as Mama Morton in the west end production of CHICAGO. Stimulated by her mother, Jean Carter, Lynda showed a vocation for the arts since her early childhood. She made her debut at a local talent show at the age of five. At the age of ten she played the guitar and even composed her own songs. At age 14 she joined a band called "JUST US." A promotional ad published on Billboard magazine once read: "Nothing can keep you away from Lynda Carter's 'All Night Song.' Get to know the real Lynda Carter. Beyond TV's super heroine 'Wonder Woman,' Lynda is making a real name for herself as a more-than-beautiful singer."
| | | | | | |
| --- | --- | --- | --- | --- | --- |
| | OCTOBER | 18 | 2007 | | |
| | | |
| --- | --- | --- |
| | WONDER WOMAN HELPS RAISE MONEY FOR DOMESTIC VIOLENCE SHELTERS | |
The following is reprinted from J. K. Parkin's original press release on blog.newsarama.com:
Oct. 28 is Wonder Woman Day II, which is a benefit to raise money in New Jersey and Oregon for domestic violence shelters. The event includes a silent auction for various Wonder Woman prints by Alex Ross, John Byrne, Adam Hughes and many more, which can be found at the previous link - and through the magic of the internet, anyone can bid. You can find the full press release after the jump.
FOR IMMEDIATE RELEASE:
Contact:
Andy Mangels, Event Producer
www.wonderwomanmuseum.com
Wonder Woman Day II - October 28, 2007
in Portland, OR and Flemington, NJ
Is A Sensational Benefit For Domestic Violence Shelters & Crisis Lines
All Ages Event Spotlights World's Most Famous Super-Heroine
And Features Incredible Art Show And Auction!
Portland, Oregon, October 15, 2007 - Wonder Woman debuted in American comic books during World War II, and was the super-heroic star of a popular television series in the 1970s. Now, for the second year in a row, the heroine serves as a star-spangled symbol for a charity benefit for Portland's most protective domestic violence shelters - Raphael House and Bradley-Angle House - and the Portland Women's Crisis Line. Excalibur Comics will host "Wonder Woman Day" on Sunday, October 28th from 1pm to 6pm. The free all-ages event will include a trio of comic book creators signing Wonder Woman comics and special art prints, as well as a silent art auction with over 150 of the world's top artists contributing original art, plus raffles, costumes, rare memorabilia, and more!
Additionally, a second "Wonder Woman Day" benefit will take place on Sunday, October 28th, in Flemington, NJ, at Comic Fusion. This East Coast event will benefit Safe in Hunterdon, a domestic violence shelter in New Jersey!
Some key points:
Portland's Mayor, Tom Potter, has declared October 28th as "Wonder Woman Day" in the City of Roses.
Portland's first Wonder Woman Day in 2006 raised over $15,400 for two Domestic Violence shelters
Last year's event was filmed for a half-hour documentary series, FANatical, shown on Canadian national television.
October is National Domestic Violence Awareness Month
Producing the event for its second year is best-selling author and DVD documentary director Andy Mangels, who is also the curator of the online Wonder Woman Museum, and one of the world's top experts on the famed super-heroine. "Wonder Woman represents peace, strength, equality, and honesty," Mangels said. "For over sixty years, her mission to promote those ideals has been detailed in comic books, novels, and television shows. This special Wonder Woman Day event allows fans and the public to celebrate the character and the people who create her adventures today, as well as to see and buy some incredible materials about the 'Amazing Amazon', all while raising money for four incredibly worthy charitable organizations."
Jessica Elkan, Director of Development for Raphael House of Portland recognizes the difference Wonder Woman Day has made. "Last year's event was a great success and this year we hope that even more people will share in the Wonder Woman Day II celebration in honor of Domestic Violence Awareness Month. Andy Mangels and the participating artists' work on behalf of survivors of domestic violence and abuse is invaluable. His efforts and the efforts of others have significantly increased the number of women, children, and men helped by our organization."
About the Wonder Woman Day events, M. Pete Marston says, "The announcement of Wonder Woman Day II was received with loud cheers here on the east coast. As the oldest son of William M. Marston, the originator of Wonder Woman, I would like to thank all of the people involved in this great effort for their belief in the spirit of Wonder Woman. She represents the blending of strength, honesty, compassion, caring and love, and this event is built on those values. Tom Potter, the Mayor of the City of Portland, Andy Mangels, Stacy Korn, all of the famous contributing artists, and everyone else involved in this year's Wonder Woman Day II deserve a BIG vote of gratitude from all of us."
Stacy Korn, co-owner of Comic Fusion, in Flemington, New Jersey, is co-producing the East Coast version of Wonder Woman Day. She notes that, "Since we opened our store two years ago, we have been looking for a way to give back to our community, in particular, our local woman's shelter. Drawing inspiration from Andy Mangels first Wonder Woman Day last year, we have found a way to help out SAFE in Hunterdon, a worthy neighbor that does so much good in our community. It has been very gratifying to use connections I have built and so many of our customers have been instrumental in creating our first Wonder Woman Day!"
Full details about the event are included on the following pages.
Full Event Details:
Wonder Woman Day II (Portland)
Sunday, October 28, 2007 - 1pm-6pm, FREE
Excalibur Comics, 2444 SE Hawthorne Blvd, Portland, Oregon
An ALL AGES benefit and celebration for Domestic Violence shelters and Crisis Line!
Proceeds Of The Event To Benefit:
Raphael House Of Portland
Bradley-Angle House
Portland Women's Crisis Line
A Part Of National Domestic Violence Awareness Month.
Wonder Woman Day II (New Jersey)
Sunday, October 28, 2007 - 11am-5pm, FREE
Comic Fusion, 42 Main St., Flemington, New Jersey
Proceeds Of The Event To Benefit:
Safe In Hunterdon Of Hunterdon County, New Jersey
PORTLAND SPECIAL GUESTS SIGNING:
Guests will have special Prints to sign, given away Free!
Phil Jimenez (current artist of Spider-Man, past writer/artist of Wonder Woman)
Gail Simone (current writer of Wonder Woman, past writer of Birds of Prey)
Anne Timmons (current artist of Go Girl! and Gothic Classics)
SILENT ART AUCTION
Over 150 artists from the comic book, newspaper comic strip, animation, and fine art worlds have donated original art depicting Wonder Woman for this event. All original art will be on display at Excalibur Comics and Comic Fusion until the event, and at the Wonder Woman Museum website! The Silent Auction will take place the day of the event. Bidders need not be present to win, however, their bid must be on the bid sheet. Details about PROXY bidding, to allow for off-site bids, will be on the website from October 14-27th.
www.wonderwomanmuseum.com
Artists contributing include such award-winning graphic art luminaries as Adam Hughes (Wonder Woman), Alex Ross (Justice, Kingdom Come), John Byrne (Superman, X-Men), Matt Wagner (Grendel, Mage), Pete Woods (Amazons Attack), Darwyn Cooke (New Frontier), Gilbert Hernandez (Love & Rockets), Jaime Hernandez (Love & Rockets), Jim Lee (All-Star Batman), Mike Grell (Green Arrow), Terry Moore (Strangers in Paradise), Jan Eliot (Stone Soup comic strip), and Guy Gilchrist (Nancy comic strip).
Additional art contributions showcase the incredible talents of Aaron Sowd, Acir Galvao, Adam Dekraker, Al Bigley, Al Rio, Alex Saviuk, Alexandre Tso, Alfredo Lopez Jr, Allison Sohn, Amy Pronovost, Andres Ponce, Andy Smith, Anne Timmons, Anthony Tan, Ariel Padilla, Aries Mendoza, Art Baltazar, Bill Maus, Bill Tucci, Bong Dazo, Bonkz Seriosa, Brian Williamson, Brock Heasley, Cat Staggs, Chris Dibari, Colleen Coover, Craig Rousseau, Dan Burgonos, Dan Parent, Daniel Crosier, Daniel Hdr, Dave Gutierrez, Dave Hoover, David Chelsea, Dean Haspiel, Diane Carroll, Don Perlin, Doug Baron, Eduardo Pansica, Elvis Moura, Eric Wolfe Hanson, Evan Bryce, Franchesco, Fred Hembeck, Gary Frank, Glen Hanson, Glen Orbik, Glenn Whitmore, Greg Moutafis, Guilherme Balbi Borba, Guy Davis, Howard Bender, Howard Simpson, Ivan Velez Jr., J.A. Fludd, Jake Minor, Jamal Igle, James Bukauskas, James Fiorentio, Janet Hetherington, Jason Baroody, Javier Cruz Winnik, Jeremy McHugh, Jerry Carr, Jessica Hickman, Jim Jimenez, Jim Mahfood, Jim Valentino, Joan Reilly, Joe Staton, John Heebink, John Lustig, John Painz, John Watson, Jon Racimo, Jona Tan, Jose Weingartner Jr, Julius Gopez, Karen Ellis, Katie Cook, Keith Tucker, Ken Branch, Ken Haeser, Kevenn T. Smith, Khoi Pham, Kris Dresen, Kristen Mccabe, Leif Jones, Lui Antonio, Marat Mychaels, Marcus To, Mark Bloodworth, Mark Padilla, Mark Pennington, Mark Robinson, Michael Bair, Michael L. Peters, Michael T. Gilbert, Mike Cavallaro, Mike Collins, Mike Pascale, Mike Vosburg, Neil Vokes, Oliver Nome, Paige Braddock, Paul Guinan, Paul T. Gould, Paul Taylor, Phil Hester, Phil Jimenez, Quincy Mata, Ray Caspio, Ray Lago, Rich A. Molinelli, Rich Woodall, Richard Howell, Rob Kramer, Roberta Gregory, Rodney Buchemi, Roger Medeiros, Rogerio De Souza, Ronn Sutton, Scott Christian Sava, Scott Rosema, Scott Shaw!, Shawn McManus, Simon Fraser, Stephane Roux, Steve Lieber, Steve Rude, Steven Gordon, Tim Fish, Tim Hamilton, Tod Smith, Tom Hodges, Tyler Kirkham, Uko Smith, Voltaire, and more to come!
Door Prizes and raffles include Autographed materials, Merchandise and Promotional items from Lynda Carter (courtesy Scott Stander and Associates), DC Comics, DC Direct, Diamond Distributing, Junk Food Apparel, Vandor, Dark Horse Comics, Chronicle Books, Tonner Dolls, Rittenhouse Archives, Graphitti Designs, GTO Designs, WizKids, Dynamic Forces, J Torres, Mark Sparacio, Life O'licious, Indigo Ink, Image Comics, Stormwatch Comics, Prism Comics, Countermedia, and more.
The event poster was designed by Richard J. Fowlks, and printing was donated by Documart Printing and TIS Grafx. Accommodations for Guest provided by Park Lane Suites.
ADDITIONAL ACTIVITIES
Fans can take photos with a gorgeous "Lynda Carter as Wonder Woman" mannequin.
Attendees can see an exhibit of rare Wonder Woman collectibles.
Anyone of any age who comes dressed in a super-hero costume will get free prizes!
More excitement to be announced!
Art images and Hi-Rez Poster are at www.wonderwomanmuseum.com
Mayoral Proclamation also viewable at www.wonderwomanmuseum.com
For additional information, text for the Mayoral Proclamation, or print-ready images from the Art Auction, contact Andy Mangels
For additional information about the New Jersey event, contact Stacy Korn
About Raphael House of Portland (a 501(c)3 charity)
Raphael House of Portland has been offering shelter to women and children fleeing domestic violence since 1977. Each year, more than 300 women and children access shelter, food, clothing, transportation, support groups and individual support at our Emergency Shelter, and over 3500 people are served by our in-house crisis line. Raphael House of Portland is one of the largest domestic violence shelters in Oregon and has over 30% of the available bed space for survivors of domestic violence in the State. Raphael House of Portland is also dedicated to the prevention of domestic violence through education in the community for people of all walks of life and ages.
About Bradley-Angle House (a 501(c)3 charity)
Founded in 1975 as the first domestic violence shelter on the West Coast, Bradley-Angle House continues to develop innovative programs for women and children of all backgrounds experiencing domestic violence. Besides bilingual Spanish and English Emergency and Transition Services, Bradley-Angle House offers culturally specific support services for women battered by women.
About Portland Women's Crisis Line (a 501(c)3 charity)
Founded in 1972, the Portland Women's Crisis Line provides services to survivors (both female and male) of domestic violence and sexual assault, including rape, incest, and sexual harassment. The Portland Women's Crisis Line was the first crisis line of its kind in the state of Oregon, and one of the first five crisis lines of its kind in the United States. The Crisis Line provides services via the toll free statewide hotline number.
About Andy Mangels
Andy Mangels is the USA Today best-selling author and co-author of over a dozen novels - including Star Trek, Roswell, and Star Wars books - and is an award-winning comic book anthology editor and past comic book writer. He has also written several nonfiction books, and regularly contributes to Just Out newspaper and other publications. He directs and produces DVD documentaries for Ink & Paint DVDs. Andy is a national award-winning activist in the Gay community, and has raised thousands of dollars for charities over the years. He curates the online Wonder Woman Museum.
About Excalibur Comics
Founded in 1976 by Peter Fagnant and Kathy Putnam, Excalibur Books & Comics is the oldest comic book store in the State of Oregon. Currently managed by Debbie Fagnant - a Wonder Woman fan - Excalibur has an extensive line of comic books and graphic novels. Excalibur regularly donates books to schools and libraries, and welcomes fans of all ages for this spectacular event.
About Wonder Woman
Debuting in All-Star Comics #8 (December 1941-January 1942) as the creation of psychologist and lie-detector inventor William Moulton Marston, Wonder Woman soon graduated into two series of her own: Wonder Woman and Sensation Comics. In the 66 years since, over a thousand Wonder Woman comics have been published by DC Comics. Wonder Woman has appeared in animated cartoons such as Justice League Unlimited and Super Friends, but most famously was portrayed by statuesque actress Lynda Cater in the live-action series from 1975-1979.
| | | | | | |
| --- | --- | --- | --- | --- | --- |
| | OCTOBER | 10 | 2007 | | |
| | | |
| --- | --- | --- |
| | STARRLIGHT: LYNDA CARTER AT THE APOLLO | |
The following article by Steve Starr first appeared in the October 10, 2007 issue of the Windy City Times.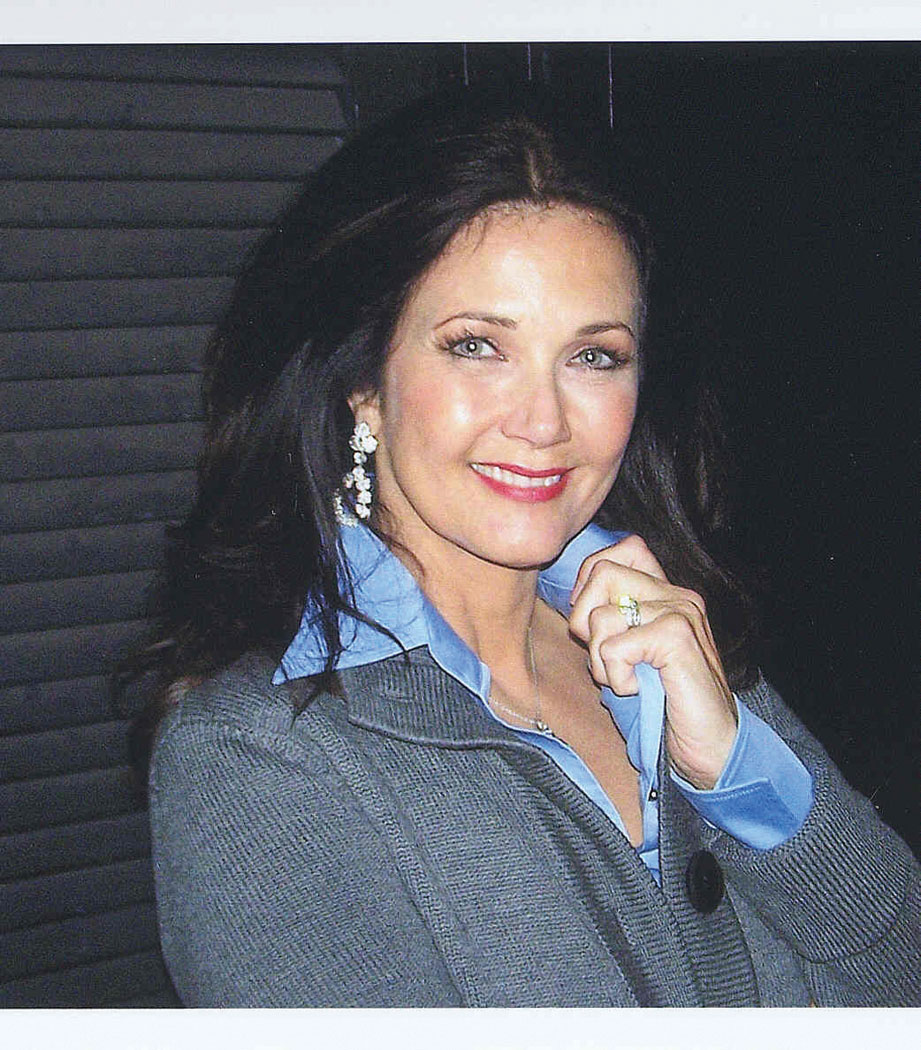 Lynda Carter, as part of her national tour after a 20-year hiatus, adorned Chicago's Apollo Theatre with six special performances, where she beautifully sang many of the most popular and beloved ballads and jazz classics of the 20th century, including "Always", "Summertime", "As Time Goes By" and "Blues In The Night". She also joyfully flashed her tastefully enormous diamonds as she sang "My Heart Belongs To Daddy". Her rendition of "Put The Blame On Mame", a song made famous in the 1946 film "Gilda", starring the gorgeous Rita Hayworth, was a particular favorite with the closing night audience. Carter was backed by a fantastic six-piece band led by pianist Michael Orland - who is currently the arranger, pianist and associate musical director for the Fox TV show American Idol, and who has worked with dozens of the most famous stars in the music industry.
Linda Jean Cordova Carter was born July 24, 1951, in Phoenix, Ariz., and studied music and drama throughout her childhood and teen years. Carter left Arizona State University to tour with a rock band, and returned home in 1972 to begin a modeling career. In 1973, Carter was crowned Miss World-USA and, in 1975, won the coveted role of television's Wonder Woman, for which she will always be fondly remembered. Carter went on to produce, host, sing and dance in five Network television variety shows and movies, and has also performed in numerous venues that include London's Palladium, and the MGM Grand and Caesar's Palace in Las Vegas.
Carter has received numerous honors. In 1978, The International Academy of Beauty voted Carter "The Most Beautiful Woman In The World." In 1980, Carter, who is of Mexican and Irish parentage, was given the Ariel Award, Mexico's highest honor, for International Entertainer of the Year presented by the Mexican Academy of Motion Picture Arts and Sciences, and in 1983 the Hispanic Women's Council of Los Angeles awarded her the distinction of "Hispanic Woman of the Year." Carter is married to Washington lawyer Robert Altman, and they have two children.
Carter was extremely personable and fun when we met after her show, posing and signing autographs for fans, including several entertainers and the exuberant owners and staff of Chicago's Kit Kat Supper Club.
Check out Windy City Queercast's Aug. 11 interview with Carter at WindyCityQueercast.com.
Photo of Lynda Carter at the Apollo Theatre taken Sept. 16 by Steve Starr
| | | | | | |
| --- | --- | --- | --- | --- | --- |
| | OCTOBER | 4 | 2007 | | |
| | | |
| --- | --- | --- |
| | LYNDA'S LATEST DVD RELEASES FOR THIS YEAR! | |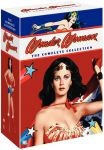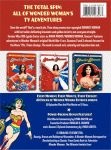 Warner Home Video has announced a ship date of November 6th for "Wonder Woman: The Complete Collection" - a multi-disc slipcase collecting all three seasons of Lynda's first and foremost television series as the beautiful Amazon warrior, Princess Diana, that rocketed her to stardom in the late 1970s. Now the entire series will be available in one boxed set featuring 11 DVDs' worth of red, white and blue, in addition to the individual sets of seasons 1-3 that came out some years ago!
In addition to "Wonder Woman", the sixth season of the television series "Smallville" is also out on DVD. This boxed set includes the touching yet exciting episode "Progeny" in which Lynda played Chloe's mother Moira, who can control people with her accidently acquired meteoric powers, including, tragically, her own unknowing daughter.
While a price for "Wonder Woman: The Complete Series" has yet to be announced, "Smallville: The Complete Sixth Season" is available from amazon.com for $38.99.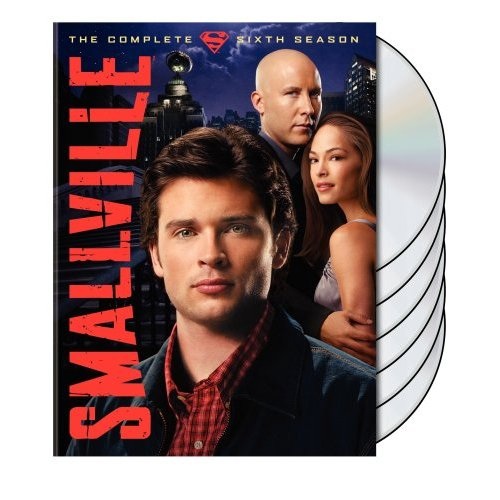 The independent film Tattered Angel, about a small town coping with the effect of a small child's disappearance in which Lynda plays the role Hazel Anderson, a mother whose beloved child also goes missing, will be part of The Cinema City International Film Festival September 25-30th with film screenings at Universal City's AMC theatres, and parties also at various restaurants throughout Universal Studio's City Walk. Lynda may be at the premier, her busy schedule permitting, which is at 5:20 pm September 28th.
After the cast and crew screening in the summer of 2005, the director and producer Duffy Hudson and Will Benson received feedback from distributors and attendees of the screening, and it became clear that the movie had to be refined. Beginning in February 2006, "Tattered Angel" underwent a total reedit, including a restructured beginning and new footage shot in the fall of 2006. The end result is the movie trimmed down from 118 to 95 minutes which is being very well received. The producers are speaking with Warner Brothers and ION Entertainment for possible distribution.
Here is a scene from the film: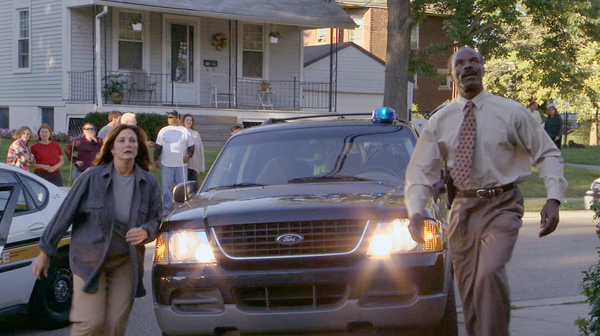 | | | |
| --- | --- | --- |
| | "WONDER, BELIEVE, CREATE" ARE LYNDA'S WORDS TO LIVE BY | |




Today Lynda joined newswoman Deborah Norville and Olympic swimmer Amanda Beard for the launch of jeweler Carolee's limited-edition "Words To Live By" collection in New York at Le Cirque, followed by a special event at Bloomingdale's. Carolee, which is celebrating its 35th anniversary, will donate 100% of the profits of the engraved silver and gold bangles to the Breast Cancer Research Foundation.
The bracelets feature words of wisdom from seven celebrities: Lynda, Juliana Margulies, Liz Smith, Beyonce and her mother Tina Knowles, Mena Suvari, Deborah Norville and Amanda Beard. The bracelets will be on sale this month throughout the fall. "We wanted a diverse group of women who would speak to the wide range of Carolee customers", said Karen O'Brien, vice president of worldwide marketing. "They all have great words to live by. These women will have great life stories to share with you." A print advertising campaign will begin in October magazines.
In the image below, Lynda's bracelet is the one that says, "Wonder Believe Create."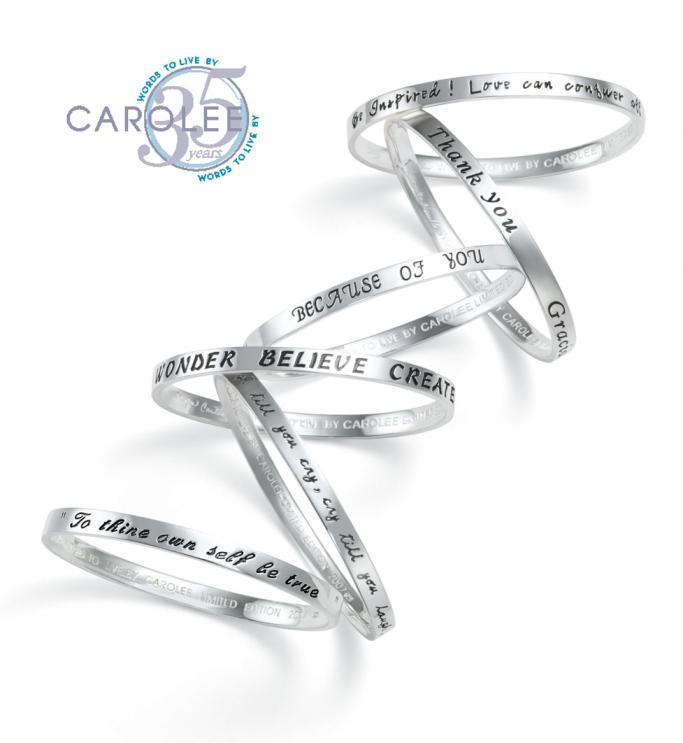 LYNDA TO DEBUT IN NEW YORK CITY!

UPDATE: TICKETS ARE ON SALE NOW!

"Performing an array of jazz classics and standards with a six-piece ensemble, includes 'Put the Blame on Mame,' 'Blues In the Night' and 'As Time Goes By,' under the musical direction of Johnny Harris, who has worked with such legendary stars as Shirley Bassey, Paul Anka and Tom Jones," states press notes.

Feinstein's at the Regency is located at 540 Park Avenue at 61st Street. Performances are Tuesday, October 30 through Saturday, November 3 at 8:30PM; plus late shows on Friday and Saturday at 11PM.
| | | | | | |
| --- | --- | --- | --- | --- | --- |
| | SEPTEMBER | 13 | 2007 | | |
| | | |
| --- | --- | --- |
| | VIDEO: LYNDA CARTER HERE TO SING (IN CHICAGO, THAT IS) | |
Click
here
to watch Lynda's interview with Mike Barz and Jan Jeffcoat on My Fox Chicago.
| | | | | | |
| --- | --- | --- | --- | --- | --- |
| | SEPTEMBER | 10 | 2007 | | |
| | | |
| --- | --- | --- |
| | LYNDA CARTER BRINGS HER STAGE SHOW TO APOLLO THEATER | |
The following article by Betty Mohr first appeared in the September 10, 2007 issue of the Daily Southtown.
When Lynda Carter tried out for the role of "Wonder Woman," she was careful not to tell the producers of the 1975-79 TV show that she was a singer.
"When I went to Los Angeles looking for an acting job, I was told by an agent not to tell anyone I'm a singer because they won't take you seriously as an actress," Carter said.
It was only after she made her mark as an actress in TV shows such as "Wonder Woman," "Partners in Crime" and "Hawkeye," and in films that include "Daddy," "Posing" and "Rita Hayworth: The Love Goddess," that it become OK for her to sing, she said.
Carter, who was a professional singer before her leading role as the comic book heroine, now returns to her roots, singing on stage for six performances Tuesday to Sunday at the Apollo Theater in Chicago.
Carter said she decided to return to singing because she wanted to rejuvenate her creative juices and to connect with a live audience.
She had been singing in her native Phoenix, Ariz. from the time she was 13. She sang professionally at high school dances and then went on the road to sing in a variety of venues. When she got the "Wonder Woman" role, though, she traded in vocal acrobatics for hand-to-hand combat skills and superhuman strength.
"When I decided to go back to singing, I thought I could be ready to go on stage by the time the tour started. But it wasn't easy. By the time I was close to getting back on the live stage, I became frightened," she said.
Unlike her indestructible persona, who had a magical lasso, bulletproof bracelets and a golden tiara to fall back on, Carter said she gets as scared as anyone.
"The idea of getting up on stage and singing in front of so many people made me feel like I was going to walk a tightrope."
With the help of her husband of 23 years, Robert Altman, an attorney/businessman, and their children James and Jessica, though, Carter was able to work through her fear.
"I realized that passing through problems and fear is how you learn, and what makes you feel most alive. That's the kind of courage I had to have when I tested for 'Wonder Woman.'
"At the time, there were so few roles for woman on TV in the early 1970s that not even TV pilots featured women. So when the television adaptation of ("Wonder Woman") was being cast, every actress wanted it. I was desperate for a job, with only $25 in my checking account, but there was so much competition that I thought I'd never get it. But I auditioned anyway and, to my surprise, they tapped me for the part."
Carter also recalled how she overcame fear in 1973 to win the Miss World USA contest.
"I know you can't succeed at anything if you're a victim, so I forced myself to get on stage," she said.
Carter said at her concerts she'll be singing a variety of classic and standards that include "God Bless the Child," "Put the Blame on Mame," "Fever" "Cry Me a River," "Blues in the Night," "As Time Goes By" and other blues and jazz numbers, all accompanied by a six-piece band.
"I'm not going to be wearing my blue-and-red 'Wonder Woman' costume. I'll be wearing something a little less skin tight, like an evening gown," she said. "I'll be singing in a nightclub setting, and giving voice to melodies and lyrics that touch me, and that I hope will touch my audience too."
| | | | | | |
| --- | --- | --- | --- | --- | --- |
| | SEPTEMBER | 7 | 2007 | | |
| | | |
| --- | --- | --- |
| | FORMER 'WONDER WOMAN' RELIVES WONDER YEARS ON JAZZ CIRCUIT | |
The following article by Molly Woulfe first appeared in the September 7, 2007 issue of the Times of Northwest Indiana.
Will wonders never cease. Actress Lynda Carter, best known as TV's "Wonder Woman" (1976-'79), was a jazzbaby before she donned the crown of Miss World-U.S.A. 1972 and the starry short-shorts of one DC heroine. The blue-eyed Phoenix native, 56, brings her cabaret show Tuesday to the Apollo Theater for a six-night run through Sept. 16. Carter, married to lawyer Robert Altman since 1984, called from her hairdresser's chair ("I'm getting my hair colored ... your basic cover-the-gray") for a quick chat with the Times about jazz, Chicago pizza and a certain Amazonian princess.
TIMES: How old were you when you broke into the music business?

CARTER: I was 14. It was at a high school dance in Phoenix. I played a few dances with this group of guys. One day the guitar player didn't have a pick. Someone knew someone, one of those things, brought one over, listened to me and offered me a job in his band. It went like that. I went from band to band and better venues. After I graduated, I went on the road with The Relatives. I was 17. The first time I went to the Catskills Mountains, I was 19 and touring with (Howard) "Speedy" Garfin, the saxophone player.

TIMES: Did you ever play Chicago?

CARTER: Yes. I had pizza at Uno's Pizzeria, the original one. I remember going down to Rush Street and going into clubs on my day off. I was young and it was fun.

TIMES: You have such a smoky voice. Are you a mezzo soprano?

CARTER: I'd say I'm an alto. I span the alto range through I move up and down. I've got quite a good range.

TIMES: Tell us about your cabaret show.

CARTER: It was an opportunity for me to sing whatever I wanted to sing ... what I've wanted to do for a long time, or songs I only did once on a special. I didn't want to do a theme-based show, "Lynda Sings X" or "Lynda Sings Y." I wanted it to be more organic, more of an experience for myself. I take that journey with the audience, walking them through and sharing the music with them. It does something for me. ... you get something like fever. It's just that groove. My favorite songwriters are Irving Berlin, Ira (Gershwin). I also do a song by Willie Nelson and a song by James Taylor. They're poets. That's probably where i tend to land.

TIMES: Your favorite standards to perform?

CARTER: "Always." "Blues in the Night." "As Time Goes By." "Secret O' Life" by James Taylor ... I love Willie Nelson, as many people do. I do "Crazy," the song he wrote for Patsy Cline years ago. ... It's different every night. There's never a song that's sung the same. It's always different because it's live.

TIMES: You still do your share of stage, TV and movie roles. You played a bionic principal in "Sky High." Was your character's Wonder Woman-like spin your idea?

CARTER: I think it was a collaboration. Most things that are very cool are. The director was a blast. We were talking about it and i was up for it.

TIMES: Wonder Woman/Diana Prince was always saving love interest Steve Trevor (Lyle Waggoner) from certain doom. Any memorable rescues stick out in your mind?

CARTER: Oh, certainly. We didn't have all these special effects. We had to jerry-rig things. He used to have his butt on a plank and guys in the crew would be carrying him on the board and make it look like I was carrying him.

TIMES: You were famous for doing your own stunts. Can you recap the Bubba Smith incident?

CARTER: Well, he decided he was not going to be flipped by Wonder Woman. By any woman. And it was part of the script. So the stunt director set everything up, "We'll practice this just once, Bubba, just once." And we were actually filming it. He was pretty surprised when I flipped him. I'm not little -- I'm 5-10. It was just leverage, that's all.

TIMES: If you had a working magic lasso, who would you rope and demand they tell the truth: President Bush, Dick Cheney, your husband, or your two kids?

CARTER: Definitely Dick Cheney.


| | | |
| --- | --- | --- |
| | | |







Robert's company, ZeniaMax Media of Rockville MD. said yesterday that it was opening a new game-design studio with the aim of tapping into the booming market for computer games that are played in online virtual worlds. The new operation, ZeniMax Online Studios will be in Hunt Valley, MD, outside Baltimore, and will develop "massively multiplayer" games in which players pay monthly subscription fees to manage the virtual lives of their characters and interact with other players. The most successful example of the genre, "World of Warcraft", has nine million subscribers worldwide.
ZeniaMax is best known for the single player games developed by its Bethesda Softworks studio that do not feature online activity. Bethesda Softworks produced the award winning blockbuster hit "Oblivion" which was released for XBOX 360 last year and Playstation this year, in which Lynda returned to play the voices of the Nords and other female characters. The studio's next game, set in a radioactive and bombed-out version of Washington DC, is scheduled for release next year.
Robert is the chairman of ZeniMax, and the board of directors also include some of Lynda and Robert's closest friends, Leslie Moonves, president and chief executive of CBS-TV, movie producer Jerry Bruckheimer, and Baseball Hall of Famer Cal Ripkin Jr.



| | | |
| --- | --- | --- |
| | | |

Lynda and Robert joined over 75,000 fellow fans of baseball great Baltimore Oriole's pitcher Cal Ripkin Jr. at his induction ceremony into the Baseball Hall of Fame today in Cooperstown, NY. With her in the audience were her friends Kelly Preston, John Travolta and Richard Gere. No doubt Lynda and Kelly traded stories about their roles in 2005's Disney film "SKY HIGH" where Lynda played Principal Powers and Kelly played superhero Josie Jetstream. Lynda and Kelly are good friends of Cal and his wife Kelly, who have developed a strong kinship with the Hollywood set.

Lynda has been a friend and a fan of Cal's for many years, since she threw out the first ball at the 1997 Oriole's opened in Baltimore as part of the Susan Komen Celebration. She also attended his last time in September 2001 when he retired.
| | | |
| --- | --- | --- |
| | | |

The official Press release for Lynda's Chicago debut with "AN INTIMATE EVENING WITH LYNDA CARTER" was released today:

"Expect to hear a well-polished set from a performer who can deliver a song even better than she can take down a bad guy." – Los Angeles Times

"... one of the most beautiful voices now performing in cabaret... [the show] is magnificent and what cabaret is all about."- Jerry Friedman, ABC San Francisco

CHICAGO – Scott Stander and Associates announced today that Chicago now joins the list of selected cities for Lynda Carter's national tour. After a 20-year absence for the live stage, Carter recently returned to the stage for sold out, record breaking runs at San Francisco's Plush Room and Los Angeles' Catalina's Jazz Club. The success of which has led to the recent recording her new CD, set for release in the fall of 2007.

Coming to Chicago for six performances of her critically lauded cabaret show "AN INTIMATE EVENING WITH LYNDA CARTER" at the Apollo Theater, 2540 N. Lincoln Ave. Tickets for the intimate concerts, which will include a limited number of table seats on the stage floor, will go on sale Friday, July 27. Performing an array of jazz classics and standards with a six-piece ensemble, includes "Put the Blame on Mame," "Blues In the Night" and "As Time Goes By," under the musical direction of Johnny Harris, who has worked with such legendary stars as Shirley Bassey, Paul Anka and Tom Jones. The musical conductor accompanying Carter will be pianist Michael Orland, arranger and associate musical director for the hit FOX-TV series "American Idol."

In 1973, Carter was crowned Miss World-USA and shortly thereafter outdistanced hundreds of other actresses for the leading role in "Wonder Woman." Carter went on to produce and hosted a series of five Emmy-winning television network variety specials featuring her singing and dancing, appearing with guests stars like Ray Charles, Kenny Rogers, George Benson, Merle Haggard and Tom Jones. She has of late starred or guest starred in dozens of films, telefilms and television series, including, most recently, "Smallville" and the films "Dukes of Hazzard" and "Sky High". Her recent stage credits include appearing as "Mama Morton" in the West End production of Chicago. She also performed at the Chicago's 10th Anniversary on Broadway celebration at the Ambassador Theatre in NY, alongside other original revival stars Ann Reinking, Bebe Neuwirth, Joel Grey, Chita Rivera, Brooke Shields and Melanie Griffith. An accomplished singer, Carter showed a vocation for music since her early childhood. She co-wrote several songs on her album "Portrait" and made frequent appearances as a singer during her career, including performances at London's Palladium, the MGM Grand and Caesar's Palace in Las Vegas, and highly rated television shows, including "Lynda Carter's Variety Special" and "Lynda Carter: Encore."

The performance schedule is as follows: Tues., Sep. 11 at 8 p.m.; Wed., Sep. 12 at 8 p.m.; Thur., Sep. 13 at 8 p.m.; Fri., Sep. 14 at 8 p.m.; Sat., Sep. 15 at 8 p.m.; and Sun, Sep. 16 at 7 p.m.

Tickets are priced from $50 – $75. Tickets go on sale Friday, July 27 and can be purchased by calling the Apollo Theatre box office at (773) 935-6100 or via Ticketmaster. Groups can purchase discounted tickets by calling (312) 423-6612.
| | | |
| --- | --- | --- |
| | | |

Our beautiful Lynda is 56 today! She will be no doubt be celebrating with her beloved family, since Jamie is home from college, and will also be celebrating a return to her first love, singing, since her wildly successful cabaret act that played in both San Francisco and Los Angeles, earlier this year, and will continue in Chicago in September! That, plus the guest-starring role as Chloe's mother in "Smallville" and acting in more films, means that Lynda is still very successful in all the areas of stage, screen and television!

Dear Lynda, we, your loving fans, wish you continued success in your career, as well basking in the love and laughter that your wonderful family keeps you in each and every year. HAPPY BIRTHDAY!!
| | | |
| --- | --- | --- |
| | | |

Our Beautiful Lady of Song was the solo performer at a fundraiser for MGM Chairman and CEO Harry Sloan on Friday July 20th at the Beverly Wilshire in Beverly Hills that garnered a record setting $1.75 million in contributions to Los Angeles Team Mentoring (LATM), the organization dedicated to connecting underprivileged kids with caring adults.

In addition to Lynda's strong performance of 5 songs from her cabaret act, accompanied by Johnny Harris and her band, the evening gala included remarks from Sylvester Stallone, who with his wife Jennifer Flavin Stallone, served as the honorary diner chairs at the event. Robert was there too, as well as the head of Lionsgate Films Jon Feltheimer, E! Networks' Ted Harbert, and United Artists' Paula Wagner. Also in attendance were several of Lynda's friends: CBS president Leslie Moonves and wife Julie Chen , and Major League Baseball Hall-of-Famer Cal Ripkin Jr.

Coming on the heels of Lynda's recording session for her new CD, things are really going swell for her. See you in September in Chicago, Lynda!
| | | |
| --- | --- | --- |
| | | |

Lynda will be performing at the Apollo Theatre in the windy city for 6 nights, September 11-16. There will be cabaret-style seating on the large stage, and theatre seating for the rest, possibly 400-500 seats total. The concerts will include more lighting and ambience then the smaller clubs that Lynda has performed at so far, like the Empire Plush Room and the Catalina Jazz Club.

Ticket information is not readily available now, but they should be on sale in the next few days at ticketmaster.com or you can contact the Apollo box office at 773-935-6100 for information Monday-Saturday 11:00 am - 6:00 pm and Sunday 11:00 am - 4:00 pm. Prices start at $50 for regular seats and $75 for the cabaret-style seating.


| | | |
| --- | --- | --- |
| | | |






Wonderland has been told that Lynda will be recording her first CD in many years since "Portrait" on 18-19 July. We wish her all the best in having the very best of musicians and sound people with her as she sings her heart out for her millions of fans all over the world. The contents will be a mixture of blues and pop, jazz and broadway tunes. If you can't come to one of her concerts to hear her beautiful voice, then buy the CD… or buy more than one! You won't regret it!






All articles integrating this site are copyright © 1999-Present by Wonderland - The Ultimate lynda carter Site. The NEWS pieces are copyright © 1998-Present by Wonderland - The Ultimate lynda carter Site.

Any graphics, pictures, articles or any other material contained within this site may be copied for personal use only and may not be used or distributed within any other web page without expressly written permission. All rights reserved.